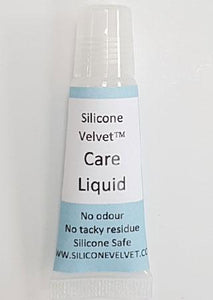 ****NEW*** Use Silicone Velvet CARE LIQUID on dummies/pacifiers and bottles to help the teat slide easily into the doll's mouth. This helps to reduce the risk of peeling and tearing of the lips caused by friction and rubbing on the lips. Care liquid is water based and developed to be 100% safe on all kinds of silicone dolls.
Unlike store bought lubricants which are designed for human skin, our care liquid does not leave a sticky residue. After prolonged use any buildup can be gently & safely removed with a cotton bud (QTip) dipped in water.
***Be careful never to use "silicone based" lubricant or petroleum jelly on your doll - these are known to damage the silicone. Our water based product contains no silicone oil or alcohol and is safe for use on your precious baby doll.***
Two sizes available - 1ml sample size and 10ml full size.
**If your doll is peeling, using any kind of powder will emphasise the peeling, but will not make the peeling any worse. Consider a professional rematting service to fix this problem.**
Silicone Velvet Care Liquid to protect the mouth from peeling & tearing.
Apply a small amount of the liquid to the teat of an appropriate sized pacifier or bottle and smooth it over the surface with your finger. The bottle/pacifier should now slide into the mouth smoothly. If it does not slide – apply a little more product. During regular use a little reside may result – this is totally safe however can be removed with pure water on a cotton bud (Qtip).
**Never use bottles or pacifiers that overstretch or do not fit the doll. We recommend that pacifiers are not left in for a long time to avoid deforming the silicone. Never use pacifiers or any item with strong colours in contact with your doll as colour transfer is always a risk.